There are some ways to customize your own water shooter.
Ways by low cost to high cost, for example:
1, Changing product colors:
Basically we could help you to do your own color, refer to the your Panton color, we could do the exact color you want.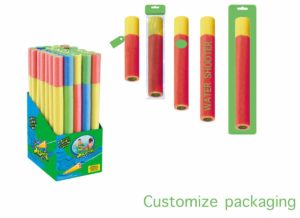 2,Sticker or print:
Sticker is a nice and cheap way to decorate the water shooter, so as print. Normally our factory would do some stickers like "Super power" or "Cool to play", but you could do it as your company logo or a funny image.
3, Packaging
For water shooter, there's a lot of way to do the packagings, like "Hangtag" "Poly bag" "Poly bag with card board" "Tie on card board" "Blister" "Display box"
4,Small part custom
Take this animal head water shooter as example, if you want to change the animal head as your other design, we will help you to make a mould of it. It's made of PVC material, normally it would cost 500-800 dollars. Luckily if you want to create 3 or 4 even more designs, we can help to save the cost make each design equally only 200 dollars.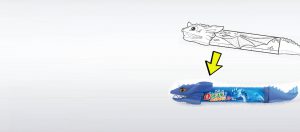 5, Big part or totally new product custom
You must be very interest in this design, which made by our designer. Maybe it gives you a hint:"I should make it as some other figure…" We will help do our best to make it 100%  same as your design.